Want to Discuss a Project With Us?
Please complete the form; a member of our team will review your message and respond accordingly.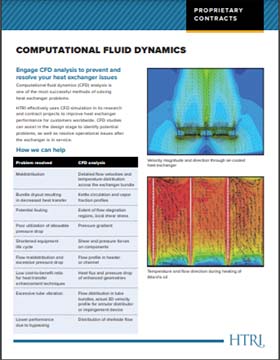 Download CFD Info Sheet
Engage CFD analysis to prevent and resolve your heat exchanger issues
HTRI effectively uses CFD simulation in research and contract projects to improve heat exchanger performance for customers worldwide as part of a comprehensive solution approach. CFD studies can assist in the design stage to identify potential problems, as well as resolve operational issues after the exchanger is in service.